Mach4
Mach4 is our newest version of CNC motion control software.
Mach4 was written from the ground up to be expandable, flexible, and extremely responsive for use with very large files.
Mach3 was designed for simple hobby machines and still serves this purpose well. When quality, speed, and the ability to use or learn industrial style controls and methods are what is needed, Mach4 is the correct choice. While there was only one version of Mach3, Mach4 is offered in different versions. Each version of Mach4 is built upon the same core. The architecture of Mach4 is modular and allows for quicker development to expand the already large feature set that Mach4 offers. Mach4 has been in use on Industrial equipment running constantly for over two years.
The standard Mach4 installer contains the screens and profiles to run Mills, Drills, Lathes, Routers, Tangential knife, Plasma, Laser, and 3D Printer machines. The full list of machines being controlled by Mach4 is much longer, but these machines can quickly be setup with the profiles and screens available in the standard Mach4 installer. Press Brake is the next machine to get a full profile for easy setup.
Purchase a License
Download Mach4
Compare Versions
Screens
Screen Shots of the Standard Mach4 Hobby User Interface. Tab controls are used in Mach4 to switch quickly between different screens. Users may modify the standard screen or create a new tab that contains the buttons, graphics, and indicators they need.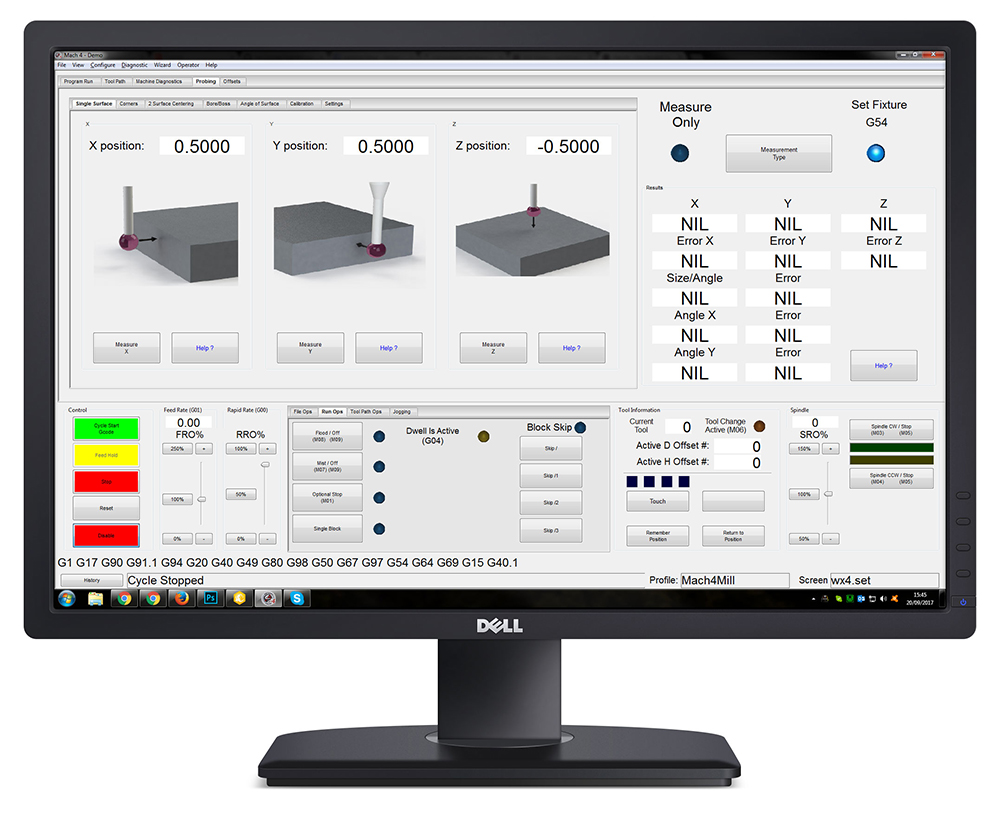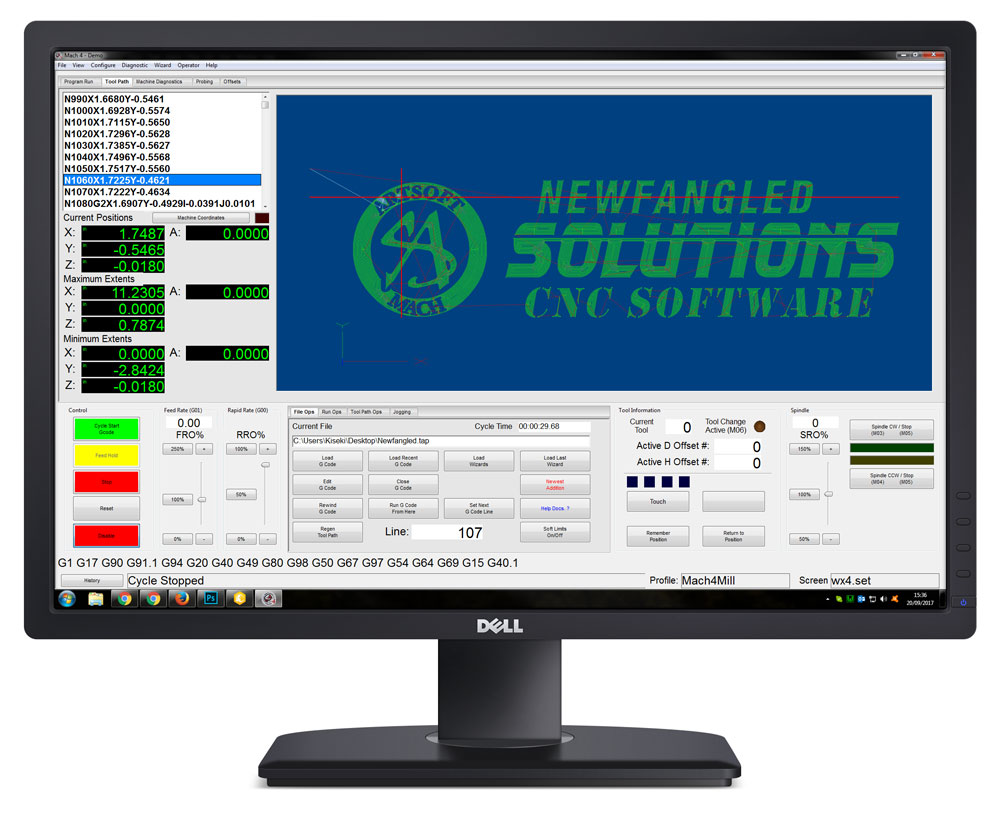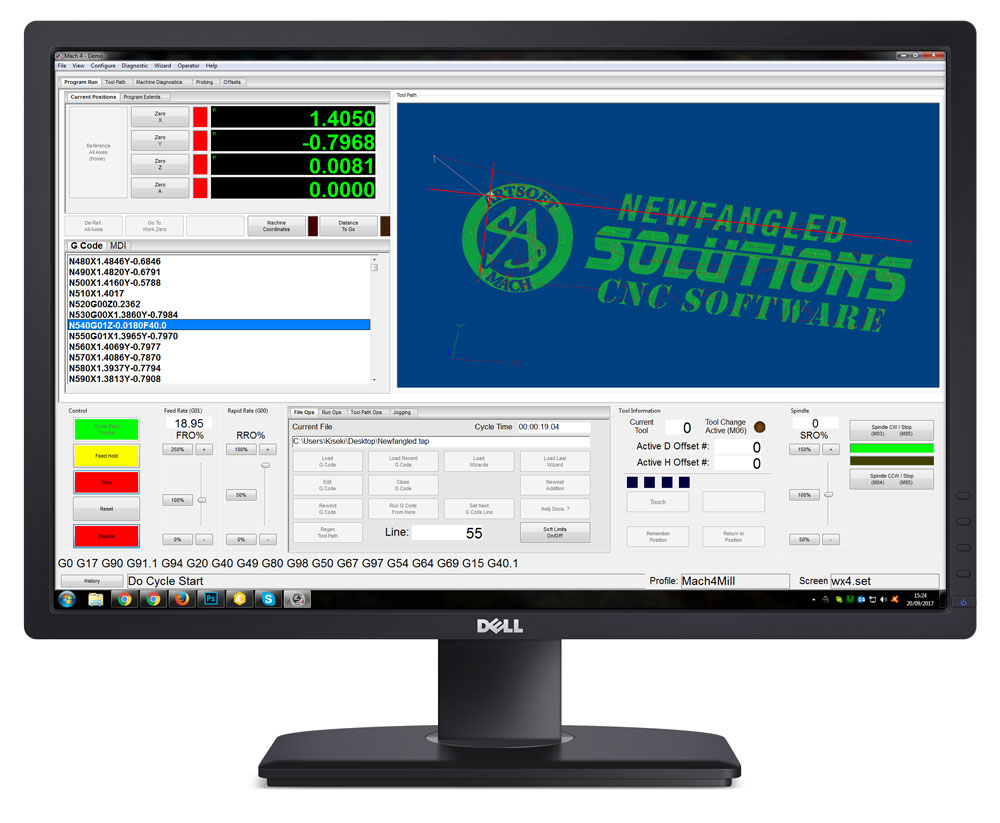 Download
The software is found on our main Download Page. The software is the full version and operates in Demo mode until licensed.
The current version supports the following;
Running up to 6 axis machines
Operating:  Mills, Drills, Lathes, Routers, Tangential knife, Plasma, Laser, and 3D Printers
Beta testing: Press Brake
Download Software
Supporting Documents
After you have installed Mach4, you can find a configuration and a gcode manual in the directory where you installed Mach4. The normal location is C:\Mach4Hobby\Docs\.
From Mach3 to Mach4
Mach4 is completely new!  We cannot stress this enough: Mach4 is not an upgrade for Mach3. It is faster, more responsive, and provides a platform for expansion, modification, and new features. The changes requested by many Mach3 users were simply not able to be completed because of limitations in the Mach3 code. Mach4 is our response to the limitations and requested changes for Mach3.
Licensing
Hardware plugins (drivers) are created and supplied by the hardware manufacturer. Mach3 drivers and code are Not compatible with Mach4. Make sure the devices you will use have plugins available for Mach4.
Licensing Instructions
Install the Demo on the Actual Machine it will be used
Run the demo and go to the Help/about screen in Mach4
Use the PC ID code from the Help/About screen at checkout to license this single computer.  Additional licenses can be created after the initial purchase from within your account.
The license is linked to a specific PC, requiring a different code for each PC. Use the 'About' screen, accessed by the 'Help' menu to get the PC code. You must have this exact PC code from the actual PC you wish to license and generate G-code. To obtain your license key, Click the 'copy ID to Clipboard' button in the 'about' dialog box when running the software in demo mode and paste this ID number in the appropriate location on the website when purchasing your license.
IMPORTANT NOTE: The LICENSE will only work for the Computer for which you supplied the PC ID. Each PC has a unique ID code and the license works in coordination with this code.
If you upgrade or exchange your PC, it will be necessary to contact the distributor you purchased the license or create a new license yourself by logging into your account and using our website license maintenance feature.
Software Requirements
Mach4 Recommended Requirements
PREFERRED: 32 or 64-bit Laptop or Desktop – Using an External Motion Controller
Windows 10, Windows 8, Windows 7, Windows XP*
An appropriate external motion controller
Mach4 Plugin for the selected Motion Controller
2Ghz CPU
1GB RAM
Video Card with 256MB RAM(Large G-code files, especially 3D files will require a video card with 512MB RAM or higher)
*Windows XP users should use version 4.2.0.4162
NOTE: Using the Parallel Port for machine control works with desktop style computers with 32-bit versions of windows 7 and XP.
32-bit Desktop – Parallel Port Recommended Requirements
32-bit version of Windows 7, or Windows XP*
Mach4 Parallel Port Legacy Plugin (cost applicable)
2Ghz CPU
1GB RAM
Non-integrated Video Card with 256MB RAM(Large G-code files, especially 3D files will require a video card with 512MB RAM or higher)
*Windows XP users should use version 4.2.0.4162
Modular Design
Mach4's modular design allows features to be added and removed without affecting the systems operation. This aspect greatly enhances the flexibility for different applications, machines and uses.
– Different modules of the core can be removed, added, or created to create a custom software package for OEM's, re-sellers, and educational organizations.
– Everything is customizable, Make the software your Own
Create Proprietary add-ons for your version
Custom Installers
Rapid Application Development (RAD) with our Screen Design Mode
Increase or decrease functionality with Plug Ins and Add-ons
Customizable M Codes for Machine Specific Functions
– No fixed amount of IO
IO registered to system without any software interference between devices.
Mach4 can control CNC machinery, PLC equipment, and robotics. The core is a full featured 'brain' that ensures all input and output devices are coordinated with motion.
All Motion control calculated in the core = less dependence on hardware and associated software driver.
Motion Device Drivers (Plug Ins) have standard format = common level of functionality between components, less complexity, easier and less costly to troubleshoot and support.
Motion Control at the Core
All motion control calculations are completed in the core. Mach4's core adapts to the speed (frequency) of the motion controllers attached. Mach3 software relied on the hardware plug-in software and complex buffering schemes to ensure accuracy and coordinated motion. This redesign has several advantages.
Up to 100x faster response from button click to machine action
Machine hold or speed changes happen as quickly as GUI buttons are selected on the screen
Improved Backlash Control & more accurate screw mapping = less jitter and more accurate cuts
Higher quality manual pulse generator (MPG) = very smooth jogging and positioning without lag time
Some New Features
Type C (Fanuc) cutter compensation standard in Mach4
More accurate tool path compensation for different size tools
Improved Anti-gouging
Synchronous Motion of up to 6 completely separate coordinate systems (instances) at the same time
Multiple heads, machines and processes to produce complex parts
Asynchronous Motion (out of band axis) to control uncoordinated motion
Pre-change tool changers
Robotic Loaders
Torch height manual compensation control
Multi-Axis Work Shifts and Head shifts to offset cutting tool path for multiple work piece holders and fixtures.- Remote Control of machinery (IPC)
New Features Continued
Control or track CNC equipment from a remote location
Greatly expanded troubleshooting
Track the operation of equipment
Link information between other computer applications
Excel, etc…
New Dynamic tool path display
View, rotate, pan, and scale the tool path quickly and easily to ensure G-code is creating the path you expect.
Improved screen layout and easily customizable screen modification tool.
Change buttons, displays, and indicators easily, quickly, and on the fly!
Versions / Products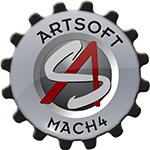 Mach4 Industrial
A full featured software version with greatly expanded customer support, including phone support for customers in a manufacturing environment where every second counts.
Mach4 Industrial includes Macro B gcode programming, tool life management, screw mapping, and an advanced GUI editing tool.
*Customized or OEM versions will be offered for each of the products listed above.
Purchase a License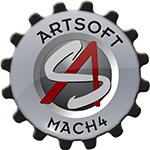 Mach4 Hobby
A full featured software version to be marketed toward those interested in using CNC machinery for their own personal /non-business use.
End-user support is limited to e-mail and online forums. Add-ons, expandability, and updates will be available.
This version is the direct replacement for Mach3.
Purchase a License