1
« on: January 28, 2014, 12:06:28 AM »
Ok, got the machine jogging nicely via dual boot mach3 and linuxcnc via step / direction commands into the Panasonic drivers.
Gonna make a like here of the major connections and parameters that need to be made / ammended so the next guy doesnt have to spend untold hours reading the manuals like I did

The cnc4pc differential line driver I showed earleir got + - 5v from usb "Channel A" became "step" and "Channel B" became "dir" wired straight from any old breakout board.
Inside the panasonic driver you have to change parameter Pr40 to setting "1" this enable the inputs for dedicated differential signals via pins 44, 45, 46, 47 which I wired as 44 to step - from the output of the differential line driver. Pin 45 to step + from the output of the line driver, 46 to dir - from line driver and 47 to dir +.
Other parameters to enable position control mode (step / dir control) within the driver are as follows, (we bought the dvop 1960 cable and loaded up the free panaterm software to assist with parameter changes, highly recommended purchase)
Parameter PR02 needs to be 0
Parameter PR04 needs to be 1
Parameter PR40 needs to be 1 (unless you are using single ended step / dir signals in which case inputs into driver are going into pins 3,4,5,6 in diagram below, not recommended by the way)
Parameter PR42 needs to be 3
Parameter PR43 needs to be 1
Parameter PR01 needs to be 1
Parameter PR4E needs to be 2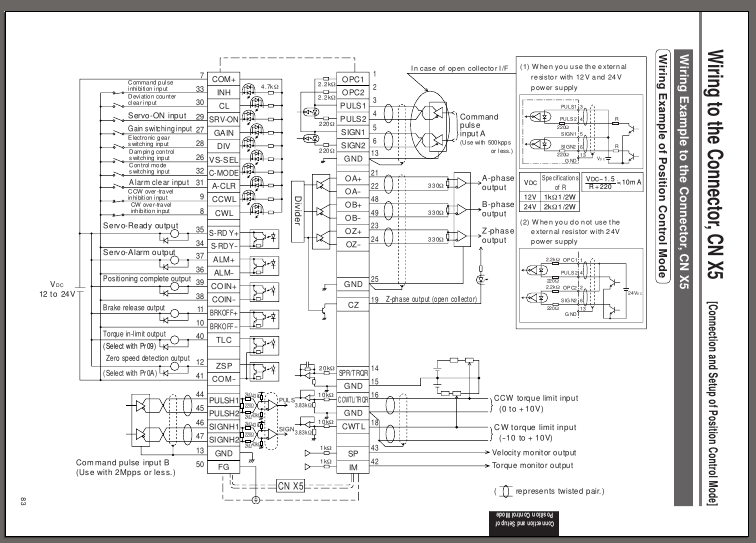 Pin 7 needs +24v
pin 41 need the minus side of that 24 v supply
Then connect pins 33,29,8,9,31,30 to pin 41, the minus side of the 24v power supply. All those pins mentioned on this line should really form part of your safety strategy, via realays and e-stop buttons etc as a way of disabling the drives.