1
« on: February 07, 2020, 09:55:08 AM »
Over Xmas break I decided to update windows on all my computers. After updating windows, I got a new error when trying to home my machine:
PMDX-SmartBOB-USB X-axis homing error, missing or invalid home switch configuration PMDX-SmartBOB-USB Y-axis homing error, missing or invalid home switch configuration
I contacted Steve at PMDX and was advised to update PMDX plugin/firmware along with Mach4. Now I get this message when starting Mach4:
Null_Value_Error.jpg
This appears to be in regards to my PLC script used to display a DRO from PMDX424 Encoder input:
local inst = mc.mcGetInstance()
local hreg = mc.mcRegGetHandle(inst, "SmartBOBUSB/EncoderDRO")
local zEncoderVal = mc.mcRegGetValueString(hreg)
local zEncoderVal = tonumber(zEncoderVal)
local zEncoderValInches = (zEncoderVal * 0.0004)
WriteRegister("Z_DRO_INCH", tostring(zEncoderValInches))

The SmartBOBUSB/EncoderDRO register value is now null. If I look at the real time diagnostics for the PMDX424, it shows the encoder input as "Disabled":
RT.jpg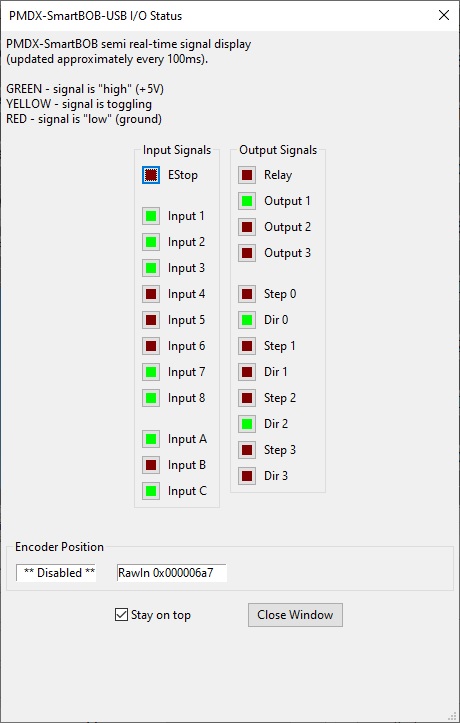 If I look at the Register diagnostics, the value for SmartBOBUSB/EncoderDRO is blank and it will not accept a manually entered value:
Register_Diagnostics.jpg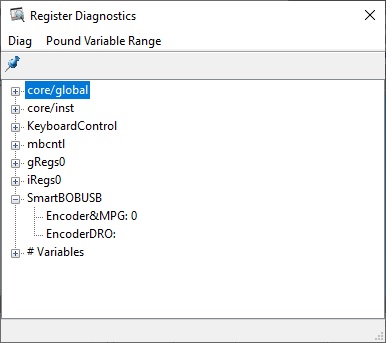 I can tell it's reading the encoder because the log shows signal 11 and 12 alternating to Hi/Low as it should for channel A/B of the encoder.
I have made no changes to configurations, profile or scripts for 3 years. All I wanted to do was update windows and now I have had a machine down for over a month

Any ideas what changed to cause these issues?
Mach4 Build#: 4300
PMDX Plugin Version: 0.53.263
PMDX Bootloader Version: 1.9.66
PMDX Firmware Version: 0.60.208
Windows 10 Pro Version: 1909, OS build 18363.535